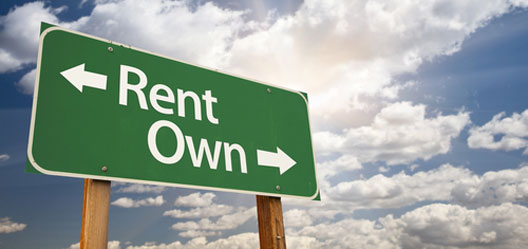 The Advantages of Renting Over Buying In Edmonton, AB
Don't buy that home in Edmonton just yet!
Edmonton is an exciting place to move to right now. It's fun, buzzing and has the jobs. Plus of course it's incredibly affordable for all the bonuses it offers compared to the rest of Alberta.
Moving to and buying a home in Edmonton can be a great decision. However, before you sign those mortgage papers consider some of the very big advantages of renting vs owning, and why renting may be right for you, right now.
The Government Wants Canadian's To Own Homes
Many millions of dollar are spent on convincing Canadians to buy homes each year. Throughout North America, both the government and private sectors have waged major PR campaigns to sell individuals on owning.
Why not? It's a big money maker. The commissions on selling homes blows that of renting apartments away, home inspectors, mortgage brokers, renovation contractors and banks all make money through homes selling. Construction of new housing is also a major economic driver, employing thousands of people and millions in supplies used in building new homes.
For governments, homeownership has very big financial benefits which make their numbers look better and keep citizens locked in as good worker bees and consumer. There's nothing wrong with this, and for many buying a home is the right move. However, it isn't right for everyone, and everyone will find there are certainly times when they are better off renting.
The Cons of Renting vs Owning a Home:
To be fair, let's look at some of the cons of renting.
The cons of renting include:
You probably can't knock down walls and replace all of the fixtures yourself
Rents will gradually go up over time as leases are renewed
You can be evicted if you get too far behind on your rent
No equity accumulation
If you switch rentals every year there can be moving costs
Of course the majority of these 'cons' can be navigated by finding a nice place to rent which matches your tastes and negotiating a lease for as long as you'll need it with fixed terms or caps on rent increases. Choosing the right landlord is also key in making a rental property your long term home.
Juggling the Numbers
Most of the arguments for owning vs renting a home are based on fancy math. If you have done any research you will have heard that "buying means building wealth", and "you can own a home for as much as you pay in rent".
Sometimes these statements are accurate. Often individuals can find they are wildly inaccurate.
Time magazine busts some of these myths wide open in an article entitled "Is it Better to Rent or to Buy?" The report reveals that while sometimes rental rates and principal and interest mortgage payments may appear to be close, when factoring in all of the other costs of owning a home such as property taxes, insurance, and of course home maintenance and improvements it can be far more costly to own each month.
In its own report on "Why it's better to rent than buy", the Financial Post reveals that even on an apparent paper gain of $150,000 in home equity net profits on a sale after taxes and fees may be as low as a meager 1.6%!
However, the really ugly, dirty secret is that when using a mortgage to buy a home you can end up paying a lot more than you ever imagined.
For example; on a 300,000 home loan at just 5% interest over 30 years you'll end up paying $279,767 in interest alone. That's enough to have bought two houses for cash!
With interest rates heading up those using short term fixed rate and adjustable rate loans could wind up paying far, far more than that, and seeing their monthly payments leaping through the roof in a few years.
Moving From Another Province or City?
Many individuals and families are coming to Edmonton in search of jobs, a better lifestyle, more affordable living, or just a new beginning today. In fact, CMHC predicts at least 67,999 other people will have moved to Alberta by the end of 2014 alone and over 100,000 moved into Alberta in 2013!
It's a fun city, it's growing fast, jobs are everywhere, it's affordable, it's buzzing with excitement and it is really just getting going with the LRT expansion, new hockey arena and more.
However, making a major move to another province can bring many unexpected expenses and can take a little getting used to. Odds are you'll love it and never want to leave. But, just in case it doesn't pan out to be exactly what you dreamed, your partner doesn't love it as much as you and to stay flush with cash until you are really settled and have had time to explore and find the perfect neighborhood it can make a lot of sense to rent first.
Then take the time to save up your down payment, find your dream home and buy a home when you are really comfortable and ready and can do it in the most profitable way.
Best rule of thumb is… rent for 1-2 years first, then buy.
Still not sure? Use this rent vs own live calculator from rentseeker.ca Rent vs Own Calculator